Tec-Alert Newsletter
Audio/Video Distribution Systems Require Simple Tooling Solutions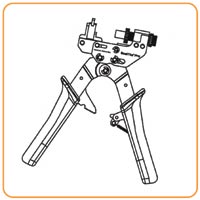 The growth in new home construction and Multiple Dwelling Unit (MDU) construction has paved a new path for digital applications. Where rabbit ears and 2-wire telephone systems once dominated the analog world, new technologies and markets such as Cable Television (CATV), Satellite Digital Cable, Closed Circuit Television (CCTV), High Definition Television (HDTV), Digital Surveillance, Access Control, Residential Security, Networked Audio Distribution, Networked Video Distribution, and Home Automation expand in the digital world. Digital Audio/Video (A/V) distribution systems require innovative connectivity solutions to meet the expanding needs.
With digital speeds reaching 3 GHz for video applications, the old analog connector systems cannot handle the bandwidth. The typical CATV "F" connector using a hexagonal crimp around the sleeve experiences large attenuation and signal loss at the higher bandwidths resulting in poor audio and video reception. Multiplexed audio signals using standard crimp-type RCA plugs experience losses due to impedance mismatch between the cable and connectors. The result is high cost audio and video installations with low quality performance. Of key importance is the cost to install the conventional connectors in an outdoor environment. The cost of labor and materials to wrap, scotch coat, tape, and weather proof outside connections is excessive. The $0.25 connector now is a $1.50+ terminated point.
The introduction of weatherproof compression seal connectors resolved not only the cost of labor issues, but allowed further benefits: color-coded compression rings identify connection scheme, true 75-ohm impedance matching between connector and cable, multiple cable types supported (RG59, RG6, and RG6 Quad) for installation ease and cost considerations, and standardized 1/4" x 1/4" strip and cable preparation method resulting in fewer tools required by the installer. No longer did the installer have to wrap and seal the connectors, and using them for both indoor and outdoor use saves cost due to bulk purchasing power.
Standard Cable Strip & Preparation
for Compression Connectors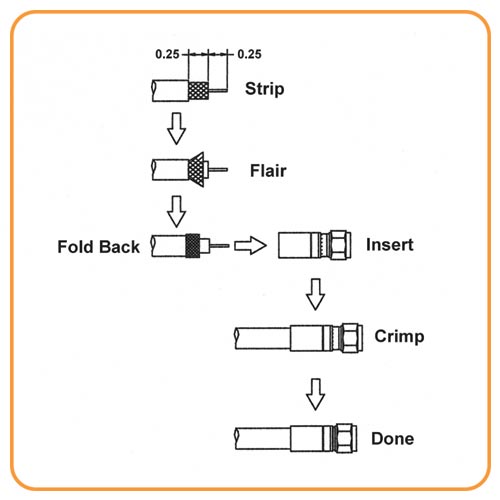 There was only one obstacle for compression connectors - the compression crimping tool. Not all compression connectors crimp to the same finished length, or have the same end (head) types (i.e. CATV F, BNC, and RCA).
Several manufacturers opted to get around the length and end types by providing multiple detachable "heads" to their compression crimpers. The heads would have custom lengths and configurations to accept the CATV F, BNC, and RCA connector types. The variations in connector lengths could result in one hand tool with as many as nine different heads. This is not acceptable from either a cost or "ease of use" standpoint. Changing heads is confusing and time consuming for the installer. Other manufacturers reduced the number of detachable heads to 3 by making the length adjustable using a self-regulating spring tension. The result is an unreliable full-compression crimp, and loose connection due to the springs not being 100% effective.
The new
SealTite™ Pro from Paladin Tools
® resolves all the problems of competitor's tools. The SealTite™ Pro is the only patented, universally adjustable tool that requires no additional heads, no time consuming set-up, and relies on no self regulating spring tension for full crimp compression. The SealTite™ Pro also offers a fully ratcheting compression crimp action to ensure quality results.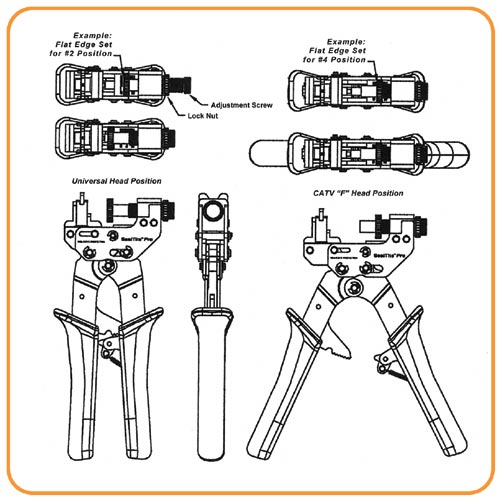 The
SealTite™ Pro
uses a reversible universal head capable of accepting all CATV F, BNC, RCA, and right angle compression connectors from every manufacturer in the world. An adjustable locking screw allows the user to set the compression crimp length in a matter of seconds for every connector type. David Glick, a home automation installer and President of Electronic Environments of Richmond, Virginia stated "You don't need any instructions to work the tool! Back the screw out just enough to hold the connector, and adjust inward on the fly as you press the handles multiple times until it hits the correct compression length. It's great!" The tool is that simple and fast to use.
For those who need instructions, Paladin provides a complete set-up list of over 200 connectors including LRC (Thomas & Betts) Snap-N-Seal™, Gilbert (Corning) UltraSeal™, CalRad Permaseal™, Stirling SPL, Digicon (all types), F-Conn (all types), ICM Corp., PPC, and more. The
SealTite™ Pro
is the fastest, easiest, most cost effective, and reliable compression crimper on the market.
Return to Top of Page
Go back to Tec Alert
BUILD YOUR OWN TOOL KIT
Get exactly what you need with a custom tool kit from Tecra Tools.

Subscribe to our Tec-Alert Email Newsletter
Get tips & information for field service and MRO professionals.