Shipping Case Accessories - Padlocks
Detailed listing of our padlocks.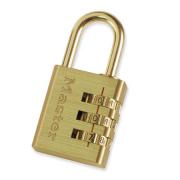 View details
Price: $9.00
SKU: 65102
Weight: 0.5 lbs.
Brand: Master Lock
Combination padlock from Master fits any of our Pelican and SKB cases.
From Master Lock, the top name in padlocks, this solid brass three-digit resettable combination lock allows for a personalized combination and comes with a lifetime warranty.
This padlock features a bronze plated steel shackle for strength and is 1-3/16" in width.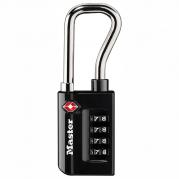 View details
Price: $19.00
SKU: 65107
Weight: 0.5 lbs.
Brand: Master
Ideal for air travel, this Master 4-digit combination padlock allows TSA screeners to inspect and relock baggage, without damaging the lock.
This TSA-Accepted Combination Padlock eliminates the possibility of TSA cutting off the lock and exposing your valuables to theft or tampering.
The Master Lock No. 4696D Set Your Own Combination TSA-Accepted Luggage Lock features a 1-5/16in (35mm) wide metal body for durability. The 1/4in (6mm) diameter shackle is 1-7/8in (48mm) long, offers extended reach for use on equipment cases and is made of steel, offering resistance to cutting and sawing. Transportation Security Administration (TSA) screeners can open, inspect and relock bags and cases locked with a TSA-Accepted lock. Lock your checked baggage with the lock TSA screeners won't cut!
The Limited Lifetime Warranty provides peace of mind from a brand you can trust.
BUILD YOUR OWN TOOL KIT
Get exactly what you need with a custom tool kit from Tecra Tools.

Subscribe to our Tec-Alert Email Newsletter
Get tips & information for field service and MRO professionals.