Pro Telco Belt Kit
No need to lug a large, heavy tool kit around. Unique Dur-a-Grip™ Pouch keeps essential telecom and datacom tools ready for immediate access.
Kit includes a Fluke D914S Ergo Punchdown Tool with 66 and 100 Eversharp blades, Fluke Electrician's D-Snips, cable stripper, AA Mini Maglite and pocket-sized insulated spudger probe.
If you can't find the exact tool kit to fit your needs then by all means build your own at Custom Tool Kits.
Item #: 84608
Weight: 4 lbs.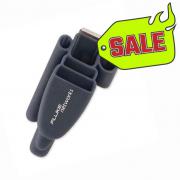 Description: Spring steel clip on the back of the pouch firmly attaches to your belt or pocket.
Item #: 64258
Weight: 0.5 lbs.