Deluxe Telecom Belt Tool Kit
Instant access to the tools you use the most - right on your belt!
Our Telecom Belt Pouch Kits include the Fluke Punchdown Tool with 66-type and 110-type punchdown blades, Slotted/Phillips screwdriver, electrician's scissors, spudger, UTP cable stripper, Mini Maglite AA, Skinning knife and Cordura belt pouch for easy access to your tools.
Maybe you already have a tool pouch? If so, we offer a Tools Only version of this Deluxe Telecom Belt Pouch Tool Kit.
If you can't find the exact tool kit to fit your needs then by all means build your own at Custom Tool Kits.
Item #: 84605
Weight: 3 lbs.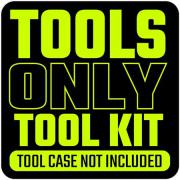 Item #: 84605T/O
Weight: 2 lbs.
Item #: 64255
Weight: 0.5 lbs.