Deluxe DS3 Coax Stripper Tool Kit with Powered Stripper
All the tools needed to perform central office DS3 installs in one convenient kit.
This DS3 Coax Tool Kit enables you to terminate high performance 734 & 735 BNC/TNC connectors from Trompeter, Milestek, Amphenol, ADC and others.
The included Porta-Strip battery operated coax stripper rapidly and precisely strips both AT&T 734 and 735 cable, while the included 12-point 75 Ohm center pin crimper delivers consistent reliable pin contacts for both regular pins and long mini-Weco center pins. The kit also has a ratcheting Paladin crimper with mini-BNC (.178" & .255" hex) die set.
Efficiently fit into a rugged Pelican 1500 case, the complete tool kit includes a power coax cable stripper with 734 and 735 cutter heads, 75Ohm center pin crimper, Xcelite Coaxial stripper, Xcelite Ergo Crimper with Mini-BNC die, center conductor cutter, Data T Cutter, Trompeter BNC Removal Tool, precision knife and standard point probe.
If you can't find the exact tool kit to fit your needs then by all means build your own at Custom Tool Kits.
Porta-Strip Battery Operated Coax Stripper with 734 & 735 Stripper Heads. (Powered Stripper is included in 80165 Deluxe Kit ONLY)
12-point 75Ohm Center Pin Crimper.
Xcelite Ergo Crimper with Mini-BNC Die.
Xcelite Coaxial stripper.
Pelican 1500 Case
Flush Cutter
Center Conductor Cutter
Data-T Cutter
Straight Point Probe
Utility Knife
Ergo Crimper Frame, Xcelite
Mini BNC Crimp Die
75ohm Center Pin Crimper
Coaxial Stripper, Xcelite
BNC Removal Tool, Trompeter
* Power Coax Stripper
* 734 Cutter Head
* 735 Cutter Head

* These items are included in the #80165 Deluxe Kit ONLY
Description: The Deluxe DS3 Coax Stripper Tool Kit for 734 & 735 cable applications includes everything shown above in a rugged carrying case.
Dimensions: 19x15x7
Item #: 80165
Weight: 16 lbs.
Description: Basic 80160 Basic DS3 Kit does NOT include the Powered Stripper and Stripping heads. ONLY the manual stripper is included.
Dimensions: 19x15x7
Item #: 80160
Weight: 13 lbs.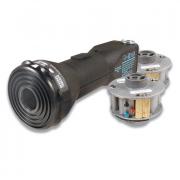 Description: The Porta-Strip Powered Coax Stripper comes complete with Power Stripper Drive Unit, 2 Cutter Heads (one set up for 734 cable and the second for 735 cable), rechargeable battery pack, AC/DC charger, DC charge cord and rugged carry case.
Item #: 35610
Weight: 5 lbs.