Telecom Belt Kit
Designed specifically for telecom installers with 18 essential tools in a handy belt kit.
Head to the job site with this tool kit and you'll be confident you have the tools necessary to do the job. In this handy belt kit are 18 of the most popular tools for voice and data network installation. The rugged leather tool pouch and belt are made by Klein Tools and popular with installers who prefer a belt kit instead of a tool case.
If you can't find the exact tool kit to fit your needs then by all means build your own at Custom Tool Kits.
Punchdown Tool w/ 66 & 110 Blades - terminate lines at the block.
Tone Generator and Probe - locate wires at the patch panel, or in bundles.
Splicing Kit - knife and serrated scissors for wire prep.
Banjo - test existing lines terminated with a modular plug.
Can Wrench - double-ended wrench 3/8" and 7/16".
Telecom Probe/Spudger - handy tool for wiring.
Telephone Line Tester - the quickest way to check a line for wiring problems.
Lineman's Side Cutters - high-leverage pliers for pulling, bending and cutting.
Banjo Adapter, 4 wire
Can Wrench, 3/8" & 7/16"
Knife, electrician's
Knife, splicing
Leather Telecom Pouch
Leather Telecom Belt
Pin Insertion/Extraction Tool
Pliers, lineman's, 8"
Potentiometer Tool
Probe, Telecom, nylon fork/hook
Punchdown Tool, 66 blade
Punchdown Blade, 110
Scissors, electrician's
Screwdriver, #2 phillips
Screwdriver, 1/4" slotted
Tape, electrical
Telephone Line Tester
Tone Generator, 77HP
Tone Tracer, 200EP
Wire Stripper, 26-16 AWG

* TS22 Butt Set included in 80155 Deluxe Belt Kit ONLY
Item #: 80150
Weight: 9 lbs.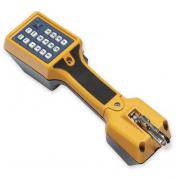 Description: Deluxe Telecom Belt Kit includes ALL of the items shown above PLUS the TS-22 Butt Set.
Item #: 80155
Weight: 12 lbs.