Tec-Alert Newsletter
What to look for in an Ideal LAN Tester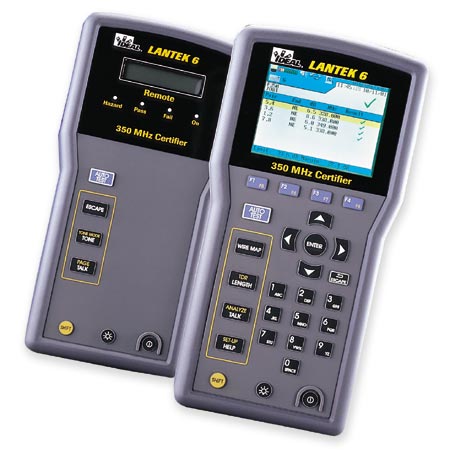 As the range of demands faced by LAN installers continues to expand and become more complex, the already important role of the multi-function LAN tester is becoming increasingly critical. Field installers need to be able to test, diagnose and certify many different types and grades of cabling, including both copper and fiber, configured into a wide range of specific installations, including workgroup level LANs, horizontal links, permanent links, campus level backbones, etc.
Field test equipment must be highly portable, easy-to-use, and powerful enough to accommodate the higher frequencies used in today's networks. At the same time, field testers also must offer the flexibility and range of options to handle many different situations in order to avoid burdening installers with buying, learning and carrying multiple test devices. The following sections cover the key characteristics that installers should expect from a complete field-test device and also detail how the
LANTEK
series from Ideal Industries is designed to meet or exceed each set of requirements.
Support for CAT5e, CAT6 and CAT7 — up to 750 MHz
The continued evolution of cabling over the past decade means that today's installers must be able to certify to the newest leading edge cable standards as well as dealing with a variety of previously installed cabling that conforms to earlier standards. The same tester should seamlessly interface with UTP, ScTP and FTP cable and be able to verify compliance with CAT5, 5e, 6 and 7 or ISO C/D and ISO E/F (draft) standards. The LANTEK 7 is the first cable tester that is fully compliant with emerging CAT7 and ISO F standards at a frequency range up to 650 MHz and beyond (750 MHz). The LANTEK 7 also provides complete backward-compatible testing at up to 250 MHz for all previous cabling standards.
Full Range of Integrated Test and Certification Functions
Multi-function testers need to accurately measure all relevant characteristics in order to give installers a complete picture of the link under test and to provide a solid foundation for both certification and troubleshooting. Fundamental requirements include basic wire mapping functions (length, continuity, shorts, opens, etc.), impedance, capacitance, DC loop resistance, attenuation and delay, as well as higher level functions such as return loss and crosstalk (NEXT and ELFEXT). Testers also must be able to meet both Level II and Level III accuracy requirements at least up through the 250 MHz frequency range. Ideal's LANTEK 6 and 7 testers lead the industry in the seamless integration of advanced test suites that bring together all critical ANSI/TIA/EIA/ISO/IEEE requirements within a single unified test and certification platform.
All-in-One Tester to Handle Both Copper and Fiber
In order to remain competitive, installation contractors must be able to handle both copper and fiber networks but they can't afford to deploy completely separate test platforms or invest in extensive training on disparate methodologies. For example, the FIBERTEK test option allows a
LANTEK 6
or 7 tester to be seamlessly adapted for measuring signal loss and length over either Multimode or Singlemode fiber cabling.
Click here to view our LAN Tester Comparison Chart
Built-in Troubleshooting Features for Pinpointing Fault Locations
Whenever a specific test fails, the installer needs to be able to move directly into a comprehensive troubleshooting mode without having to change test instrumentation or reconfigure their set-up. After eliminating obvious fault possibilities that typically occur near the link's endpoints, users need to drill down and locate any anomalies within the link.
LANTEK
seamlessly integrates high-end Time Domain Reflectometry (TDR) functions that enable users to simply switch into the instrument's Analyze menu and use the TDR's graphical display to interactively pinpoint the exact location and nature of the fault conditions. For twisted pair cabling, the LANTEK's TDR analysis function can even be independently applied to each wiring pair. In addition, LANTEK's TRACETEK option gives installers the ability to quickly trace a fiber run and locate the distance and magnitude of events within the fiber link — without incurring the expense or complexity of costly Optical TDR functionality.
Rapid Setup and Fast AutoTest Performance
LAN installers can't afford to waste any of their time in the field. The ability to quickly test and certify all network elements represents the key to both their competitiveness and their profitability. Field testers must accommodate this goal by providing fast, efficient and easy-to-use test suites.
LANTEK 6
and 7 testers include comprehensive AutoTest functions tailored for CAT5, 5e, 6 and 7 or ISO C/D and ISO E/F that can quickly provide complete easy-to-read graphical test results. For example, the LANTEK 7 can generate comprehensive CAT6/ISO E AutoTest results in approximately 35 seconds for a 250 MHz frequency range.
Minimizing Certification Costs and Overall Cost of Ownership
As much as possible, installers also want to limit the need for specialized attachments, such as expensive "permanent link adapters" that are used only during the certification process.
LANTEK 6
and 7 cable testers/certifiers include advanced Phase Measurement capabilities that enable users to logically eliminate all connectors and cabling that lies beyond the end-points of the permanent link itself. This significantly reduces field hassles and overall cost of ownership by allowing installers to use standard patchcords for the final certification process. LANTEK testers are also designed for easy calibration in the field without requiring a standalone PC or specialized software and calibration artifacts.
Handheld Portability, Ruggedness and Ergonomic Operation
Field test instrumentation isn't worth much unless it can stand up to the rigors and requirements of day-to-day usage in real-world situations. Designed for rugged portability, the main
LANTEK
testers and associated remote units both have an overmolded edge to resist even the harshest environmental factors and to provide continuous reliable operation in the field. With the industry's brightest 1/4 VGA color screen on the main unit, plus a two-line black and white LCD display on the remote, LANTEK provides easy-to-read menus and test results, regardless of the surrounding ambient lighting conditions.
Seamless Data Management
It's also important to remember that no field test instrument operates in a vacuum, independently of the other management and support processes within the installation contractor's overall operation. Network wiring maps, test results and certification data first must stored locally in the test device, after which it needs to be efficiently uploaded into master databases and customer reports. The
LANTEK
series is designed to store up to 6,000 AutoTest results within internal memory and as many as 24,000 test results using external flash memory. With expansion capabilities via two full-function PCMCIA slots and standards-based communications via serial and USB ports, LANTEK testers are designed to fit seamlessly into the contractor's overall workflow processes. In addition, LANTEK Reporter PC software allows users to efficiently create custom-tailored brief summaries or detailed certification reports for delivery to their end customers.
The Bottom Line: Comprehensive Features, Performance and Value
Installers need field-hardened tester platforms that bring together the entire spectrum of key features that they actually use on a day-to-day basis, along with an extensible technology foundation to address special situations as they arise. Field devices need to support core AutoTest and link certification processes at high speeds while also offering the flexibility for installers to move seamlessly into in-depth interactive troubleshooting procedures whenever required.
As the centerpiece of the contractor's LAN installation toolkit, the multi-function tester must be able to handle the full spectrum of copper and fiber cabling types and certify to all relevant standards, while delivering the consistent uptime, fast test results and smooth integration with overall workflow processes. The
LANTEK
handheld testers from Ideal Industries are designed and manufactured with meticulous care to meet all of these requirements, thus providing installation contractors with an ideal foundation for streamlining test procedures and maximizing efficiency within real-world field test environments.
Click here to view our LAN Tester Comparison Chart
Return to Top of Page


Go back to Tec Alert

BUILD YOUR OWN TOOL KIT
Get exactly what you need with a custom tool kit from Tecra Tools.

Subscribe to our Tec-Alert Email Newsletter
Get tips & information for field service and MRO professionals.