Screwdrivers, Individual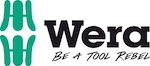 Wera Screwdrivers are simply the best screwdrivers we've ever used!
Durable Wera Kraftform Plus Screwdrivers fit your hand and provide excellent torque, while the Wera Lasertip "bites" into the screw head and prevents slippage. Step up to German quality and German craftsmanship today!
Of course, all our Wera Screwdrivers are backed by our LIFETIME WARRANTY.
BUILD YOUR OWN TOOL KIT
Get exactly what you need with a custom tool kit from Tecra Tools.

Subscribe to our Tec-Alert Email Newsletter
Get tips & information for field service and MRO professionals.