Fiber Tools - Strippers
Detailed listing of our Fiber Optic Strippers.
Price: $56.50
SKU: 35213
Weight: 0.3 lbs.

The industry standard cutting-type stripper for removing 250 micron buffer coating from 125 micron optical fiber without harming the fiber.
Requires no adjustments. Cutting surfaces are precision formed, hardened and tempered.
Price: $30.50
SKU: 35204
Weight: 0.3 lbs.
Brand: Jonard
This three hole Fiber Optic Stripper from Jonard performs all common fiber stripping functions with a single tool.
The first hole of this Fiber Optic Stripper strips the 1.6-3 mm fiber jacket down to the 600-900 micron buffer coating. The second hole strips the 600-900 micron buffer coating down to the 250 micron coating and the third hole is used to strip the 250 micron cable down to the 125 micron glass fiber without nicks or scratches. Handle is made of TPR (Thermoplastic Rubber).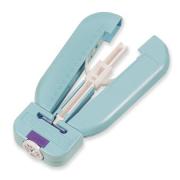 View details
Price: $52.50
SKU: 35208
Weight: 0.2 lbs.

This innovative Micro-Strip fiber stripper is used for stripping 125 micron fiber with 250 micron buffer coating.
It incorporates a patented system of opposing stripping blades which self-align around the glass to ensure concentric scoring and precision-stripped, nick-free fiber.
BUILD YOUR OWN TOOL KIT
Get exactly what you need with a custom tool kit from Tecra Tools.

Subscribe to our Tec-Alert Email Newsletter
Get tips & information for field service and MRO professionals.