Datacom Tools - Datacom Cutters
Detailed listing of our Datacom cutting pliers.
Price: $27.00
SKU: 12192
Weight: 0.5 lbs.
Brand: Ideal
The curved cutting blades are hardened to handle coaxial cable up to RG-9U, Multi-conductor cable up to .500 inch and wire up to 8 AWG.
With return spring and comfort handles cutting cable is a breeze.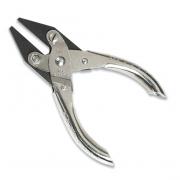 View details
Price: $29.75
SKU: 12114
Weight: 0.5 lbs.
Brand: Grobet File
Parallel action and smooth flat jaws are perfect for snapping down covers on crimpless keystone-style connectors.
BUILD YOUR OWN TOOL KIT
Get exactly what you need with a custom tool kit from Tecra Tools.

Subscribe to our Tec-Alert Email Newsletter
Get tips & information for field service and MRO professionals.