Network Administrator Tool Kit
Have MACs (Moves, Adds, Changes) taken over your life? This specially designed network tool kit featuring Lifetime Warranty hand tools from Klein, Wera and Wiha has everything for the professional System, LAN and Network Administrator.
If your network is like most, you simply can't afford downtime. Our 80115 Network Tools Kit has everything you need to keep your system up and running smoothly. From punching down new wiring to repairing patch cords to tracing cable runs to adding a board or mounting equipment in a rack, this kit has the tools and test equipment to not only get the routine system tasks done but also handle the bigger jobs in record time.
Power and performance is on your side with this fully loaded tool kit that is highlighted by a Klein VDV Scout Pro network cable tester, Psiber's Network Optimized Tone & Probe Set, a Paladin All-In-One Modular Crimp Tool and a Fluke Punchdown Tool with both 66 and 110 type blades. We round out this kit with a UTP & STP Cable Stripper, pin extractors, flashlight, pliers, screwdriver and Torx® blades and other critical sysadmin hand tools all neatly and conveniently laid out in a durable soft-sided Cordura case. Never again be without the right tools for the job.
Maybe you already have a tool case? If so, we offer a Tools Only version of this Network Admin Kit.
If you can't find the exact tool kit to fit your needs then by all means build your own at Custom Tool Kits.
Lifetime Warranty hand tools featuring premiere USA and European brands like Klein, Wiha and Wera!
Network Optimized Psiber Tone and Probe Set - Easily traces both active and inactive wiring to either the patch panel or to Hubs or NICS.
Paladin All-In-One Crimper - Crimps 4-pair, 6-pair and 8-pair plugs.
Fluke Punchdown Tool with 66 and 110 type blades - quickly connect wiring in keystones or patch panels.
UTP & STP Cable Stripper - performs circular or lengthwise cuts RS-232 Pin Extractor - replace bent or broken cable pins.
Flashlight - for those dark wiring closets and ceiling installs.
Torx® Driver Blades - essential for these increasingly common computer fasteners.
Contact Burnisher
5" HD Diagonal Cutter
6" Long Nose Plier w/cut
5" Hemostat, Straight
Flush Cutter 5 In.
5" Long Nose Pliers ESD
Tweezer 6" Angled 00200
Rapidaptor Blade Holding Regular Handle 4"
Nutdriver Power Blade 3/16"
Nutdriver Power Blade 7/32"
Nutdriver Power Blade 1/4"
Nutdriver Power Blade 9/32"
Nutdriver Power Blade 5/16"
Nutdriver Power Blade 11/32"
Nutdriver Power Blade 3/8"
Torx® Power Blade T8
Torx® Power Blade T9
Torx® Power Blade T10
Torx® Power Blade T15
Torx® Power Blade T20
1/4" Dr 4" Rapidaptor Blade Extension
Probe-Pic Spudger Yellow
Elect. Scissors 100C
Screwdriver, Phillips #1x3"
Screwdriver, Phillips #2x4"
Screwdriver, Slotted 1/8"x8"
Screwdriver, Slotted 1/4"x5"
Screwdriver, Slotted 3/16"x4"
4-in-1 Stubby Screwdriver
6pc. Jeweler's SD Set
Screwdriver, Slotted 3/32"x2"
Screwdriver, Phillips #0x2"
Screwdriver, Slotted 5/16"x6"
Dbl. Ended Nylon Screw starter
12" Magnetic Screwdriver w/bits
Adj. Wrench 6" Crescent
4" Vise Grip Pliers, Long Nose
BE 8pc Hex Key Set SAE
BE 6pc Hex Key Set, Metric
Steel Ruler 6" w/Clip
Tape Measure 12ft
Combination Spring Hook
Key Cap Puller
Anti-Static Align. ToolAlign. Tool AS-8276
Anti-Static Align Tool
LED Aluminum Flashlight
Inspection Mirror, Telescoping
Magnetic Pick-up Tool, Telescoping
Electrician's Knife
2 oz Tri-flow Teflon Lubricant
Super Champ Crimper
UTP Stripper 45-165
Pin Extraction Tool, D-Sub
Pin Extraction Tool, D-Sub
16-26 AWG Wirestripper
Parts Box IDS System
Telephone Line Tester IT
Gender Changer
Gender Changer
VDV Scout Pro Cable Tester
RJ45/RJ11 Crimper
ESD Field Service Kit
ESD Grounding Plug & Outlet Tester
IC Extraction Tool EX-1-
Punchdown Tool
Cable Tracker Tone & Probe
Rip-It Velcro Cable Ties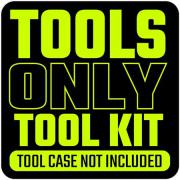 Dimensions: 10x10x6
Item #: 80115T/O
Weight: 6 lbs.
Dimensions: 14x14x4
Item #: 80115
Weight: 10 lbs.