Audio & Video Tools - Cat 5 UTP Cable Strippers
Detailed listing of our Cat 5 Cable Strippers.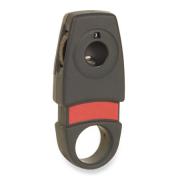 View details
Price: $43.50
SKU: 35251
Weight: 0.2 lbs.
Brand: Wiha Tools
This precision Cat5 cable stripper is great for stripping any type of shielded (STP) or unshielded (UTP) twisted pair or other small round cabling.
It features a nine position adjustment wheel that lets you precisely set the blade depth to strip thick or thin insulation without fear of nicking the inner wires or fibers. Its compact size makes it a perfect addition to any tool kit. Strips round cables 1/8" to 7/16" in diameter. Replaceable blade available separately. Please call for price.
Price: $41.00
SKU: 35135
Weight: 0.2 lbs.
Brand: Ideal
This lightweight, compact stripper is inexpensive and simple to operate with adjustable blades to ensure nick-free strips.
Use with twisted pair wire (UTP or STP), tightly wrapped stranded cables, CATV cable and other types of flexible power cords. Also works great on CAT 5 cabling. This tool strips from 3/16" to 5/16" O.D.
A second blade in the tip of the tool enables lengthwise slitting of the cable if needed. <p Includes three straight and one round blade.
Price: $5.75
SKU: 35133
Weight: 0.2 lbs.
Brand: Eclipse
Specifically designed to inexpensively quickly measure, strip and cut UTP cables.
Easy to use and economical, this handy disposable Cat5 stripper includes a 110-style punch tip and a length guide for gauging correct strip length. For RJ11 and RJ45 unshielded twisted pair wiring.
BUILD YOUR OWN TOOL KIT
Get exactly what you need with a custom tool kit from Tecra Tools.

Subscribe to our Tec-Alert Email Newsletter
Get tips & information for field service and MRO professionals.