Cable Slitter, Ring Tool
Rotary cable slitter both slits and strips round cables 0.12" to 1.0" in diameter.
Features adjustable cutting depth and swivel blade for longitudinal, ring or spiral cuts. Heavy duty metal construction.
Spare replacement blade included in tool handle.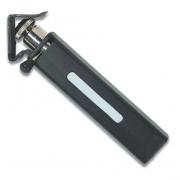 Item #: 35132
Weight: 0.3 lbs.

Item #: 35131
Weight: 0.5 lbs.