Tools At Height Drop Prevention Tool Kit
Stop The Drop! Safety is essential when working at height. Reduce the Risky Business of working at height with our NEW Tools at Height Drop Prevention Tool Kit.
An ounce of prevention is worth a pound of cure is even more relevant at height! Benjamin Franklin probably never worked very far off the ground but his reasoning was sound. Even small tools dropped can have large consequences.
Safety is the biggest concern when working at height for any technician or installer whether working on Solar Installations, Wind Turbines or Oil & Gas rigs. Accident avoidance is the key and that's why each of our tools in this specially designed kit are fitted with weight regulated clipping points, so each of your tools can be safely and securely clipped onto lanyards and/or tool belts.
Using our Tools at Height Tool Kit will ensure your safety as well as helping to prevent damage or tool loss if dropped.
*Pictured in the VETO PRO PAC XXL-F Pro Tool Bag
Lifetime Warranty Tools featuring premiere USA and European brands like Wera, Williams, Gearwrench, Bacho, Klein, Ergodyne and more!
Wera Joker Self Adjusting Wrench Set - Made In Germany
Snap-On Tape Measure - Made in The USA
Williams Tools at Height wrenches, pliers and cutters - Made in The USA
Williams Tools at Height SAE Combo Wrench Set - Made in The USA
Bahco Ergo Screwdrivers - Made in Spain
Gearwrench Ratcheting Quad Wrench Set
25lb Hook2Loop Bungee Tether
Tether Kit Ergodyne Safety Gear
Super Tough Veto Pro Pac Tool Bag
Lifetime Warranty Tools
Wera Joker Self Adjusting Wrench Set
LED Rechargeable Headlamp
Magnum Safety Glasses, clear
Canvas Tool Bag, white (13" x 7")
D Ring Tool Attachment, 10pk yellow
Hook2Loop Bungee Tether
Steel Carabiner, medium, 1"
Aluminum Carabiner, small
8oz Fiberglass Ball Pein Hammer
Knucklehead Gloves, large
7" Curved Locking Pliers w/Cutter
Locking Pliers
HD Stripping/Cutter Pliers
Magnetic Pickup Tool
4pc Metric Ratcheting Quad Wrench Set
Ergo Screwdriver .8x4.0x100
Ergo Screwdriver 1.0x5.5x125
Ergo Screwdriver .5x3.0x100
Ergo Screwdriver #1x80
Ergo Screwdriver #2x100
16" Multi Position Prybar
Combination Feeler Gauge Set
Inspection Mirror
7pc Hex Key Set
6-1/4" Curved Long Nose Plier
Side Slip Joint Plier, 5"
Super Joint Plier, 10"
Side Slip Joint Plier, 12"
Tools at Height Side Cutters
6" Diagonal Cutter Plier
6.5" Long Nose Plier
25' Measuring Tape
6pc SAE Combination Wrench Set
Retractable Wrist Strap with Tether
Pro Tech Tools at Height Tethering Tool Kit (listed below):
Two Squids® 3713 Elastic Loop Tool Tails™ Swivel (3-Pack)
One Squids® 3700 Web Tool Tails™ Attachment (6-Pack)
Two Squids® 3755 Self-Adhering Tape Trap
One Squids® 3790 Tool Shackle D-Rings (2-Pack)
One Squids® 3770 Tape Measure Holder Trap
One Squids® 3780 Power Tool Holder Trap
Two Squids® 3156 Coil Low Profile Tool Lanyard with Single Carabiner
One Squids® 3108F(x) Tool Lanyard - Single Carabiner
One Squids® 3118F(x) Tool Lanyard - Dual Carabiner
One Squids® 3400 Glove Grabber Dual Clip
Choice of Veto Pro Pac XXL-F Pro or OT-XL Open Top Tool Bag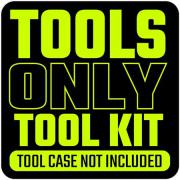 Dimensions: 22x17x10
Item #: 89300TO
Weight: 29 lbs.
Dimensions: 20x19x12
Item #: 89300VOTXL
Weight: 41 lbs.
Dimensions: 27x19x11
Item #: 89300VPXXLF
Weight: 44 lbs.