5mW Fiber Optic VFL Tester
Basic Laser Fiber Continuity Tester has two modes, continuous or flashing, to deliver a high intensity, red laser light down the optical fiber for verifying fiber continuity.
5mW Fiber Optic VFL (visual fault locator) is designed for field personnel who need an efficient and economical tool for continuity checking in an optical network during and after installation. It is easy to locate the breakpoint and bad connections in fiber optic cables.
Portable, durable and ease to use
Support 2.5mm universal connectors (for FC/SC/ST)
Dust-proof & Crash-proof Cap design for laser head
Both continuous and flashing modes available
Operation is simple. Gently insert the ferrule of the connector into the adapter port. Turn on the tester using the side button, one press for continuous-mode or two presses for blinking-mode. Red laser light visible at the far end of the fiber verifies continuity.
Testing distance may vary depending upon fiber characteristics.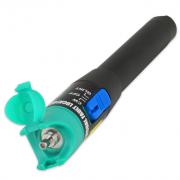 Description: CAUTION: Never look directly into the continuity tester laser or illuminated fibers. Can cause eye damage.
Item #: 35536
Weight: 1 lbs.

Description: Converts the 2.5mm orifice on a fiber tester to a smaller 1.25mm orifice for use with LC and MU connectors.
Item #: 35531
Weight: 0.2 lbs.