Ergo Crimping Tool Frame for 734/735 BNCs & LCCs
Make fast and easy high quality crimps single handed with Xcelite's Ergo Crimper, one of the most advanced crimping tools available.
With its new patented design, the ratcheting Xcelite Ergo Crimper delivers up to 50% better mechanical gain than other crimpers, increasing productivity and reducing operator fatigue. The Ergo Crimper's easily interchangeable dies make it an affordable solution for telecom installers and contractors terminating high speed coax cross-connects.
Multiple applications include high-speed telecom (T1 and DSX), CATV, satellite TV connectors and cellular phone tower connection. This 1-pound crimper measures 8.66" x 2.83".
Description: Ergo Crimp Tool Frame ONLY
(Requires die sets shown below)
Item #: 39175
Weight: 1 lbs.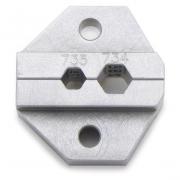 Description: The 734/735 BNC crimp die is a full 1/2" wide to crimp the entire length of the BNC sleeve in a single crimp cycle, thus improving cable retention and performance.
This die has hex cavities of "734" and "735" and also embosses 0.255" or 0.178" onto the crimped sleeve providing permanent documentation of proper installation.
Item #: 39178
Weight: 0.4 lbs.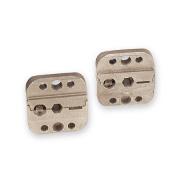 Description: This special AT&T 734 LCC coax cable die has three nests, the first crimps the outer sleeve, a second for trimming the center conductor and a third for crimping the recessed center pin.
Made of durable machine hardened steel for precision crimping and long lifeApplicable connector types include coaxial 734 BNC, TNC, and 734 LCC connectors.
Item #: 39179
Weight: 0.4 lbs.