Fluke 116 HVAC Multimeter with Temperature and Microamps
Designed by electricians. Engineered by Fluke. Compact true-rms meter for HVAC (heating ventilation air conditioning) troubleshooting.
The Fluke 116 was specifically designed for the HVAC professional. It has everything needed in an HVAC meter including temperature and microamp measurements to quickly troubleshoot problems with HVAC equipment and flame sensors.
Built-in thermometer for HVAC applications
Microamps to test flame sensors
Low input impedance: helps prevent false readings due to ghost voltage
Large white LED backlight to work in poorly lit areas
Resistance, continuity, frequency and capacitance
Min/Max/Average with elapsed time to record signal fluctuations
Compact ergonomic design for one-handed operation
Compatible with optional magnetic hanger (ToolPak™)
CAT III 600 V safety rated
Fluke 16 Meter / Thermometer Specifications

Item #: 37216
Weight: 2.5 lbs.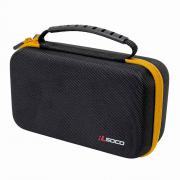 Description: Carrying Case 
for Fluke 117/115/116/114/113/177/178/179/233 Digital Multimeter
Dimensions: 8.9" x 7.5" x 3.4"
Item #: 37123
Weight: 0.5 lbs.