Fiber Optic Safety Kit
Don't compromise safety when working with glass fibers. Tecra Tools has developed a Fiber Safety Kit specifically for working with glass fiber.
Kit includes 14" x 22" black polishing/work mat, disposable fiber scraps trash can, teflon coated splinter removal tweezer (4.25" long), 10 bifurcated cleaning (two-pronged, 5" long) swipes with self-contained alcohol dispensing tube and single lens, wrap-around safety glasses.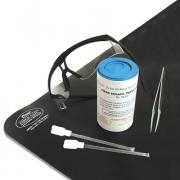 Item #: 32320
Weight: 1.5 lbs.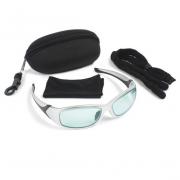 Item #: 33114
Weight: 0.4 lbs.