200x Fiber Optic Inspection Scope
This 200x Dual illumination handheld fiber inspection scope provides a fast, affordable method for evaluating fiber terminations. Designed for field use and laboratory inspection of fiber optic endfaces.
The 200x Fiber Inspection Scope features dual viewing modes with both oblique illumination, which provides an excellent view of ferrule cleanliness and core condition, and coaxial illumination, best for viewing fiber endface polish details and smaller scratches. This rugged scope is an all-metal design with crisp all-glass optics and has internal white LED for illumination which delivers 100,000 hours of bulb life and greatly extended battery life (30+ hours from one set)
The 200x Dual Illumination Fiber Scope requires three AAA batteries (included).
This fiber microscope also comes with a 2.5mm Universal Adapter cap for viewing SC, ST or FC connected fibers and also a Universal 1.25mm Adapter for use with LC or MU connected fibers.
Additional adapters are available upon request. Please contact us at 800.284.0808 for pricing.
Oblique illumination mode with LED lamp
Coaxial illumination mode with LED lamp
Precision all-glass 200X optics (great for multimode fiber inspection)
Includes a Universal 2.5mm adapter, compatible with standard connector types (ST, SC and FC)
Includes a Universal 1.25mm adapter, compatible with LC and MU terminated fibers
Interchangeable adapter interface
Clear bright images
Smooth focus control
Momentary or push button three position illumination/on/off switch
Integrated Laser safety filter for eye protection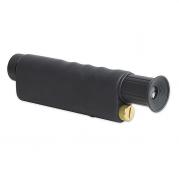 Item #: 35503
Weight: 1 lbs.

Description: This 1.25mm LC/MU adapter fits the 200X Scope ONLY.
Item #: 35522
Weight: 0.2 lbs.