Fitel S178A Core-Alignment Fusion Splicer
The S178 Fusion Splicer is fast, durable and significantly smaller and lighter in weight than previous models.
Affordable fibre optic equipment can be found at tecratools.com. The FITEL S178A Hand-Held Core-Alignment Fusion Splicer has the latest, state-of-the-art technology. By combining speed, precision, durability and portability in one unit, the S178A Fusion Splicer brings an entirely new range of applications for core alignment splicing.
The S178A is equipped with a new alignment system that can reduce the splicing time by up to 20%. In addition, the improved heating mechanism also reduces the protection sleeve shrink time by more than 30% and the newly incorporated USB 2.0 interface speeds up PC communication and image/video transfer, whilst enhancing reliability.
The S178A Fusion Splicer is your versatile best choice for a wide range of uses including FTTx, LAN, backbone, enterprise, longhaul installations, data-center and/or OEM applications. It is also an excellent option for use in the conventional telecommunications industry, along with other industries (including oil and gas).
Applicable Fibers: SMF, MMF, DSF, NZD, EDF, BFI/UBIF. Splicer includes splicer, battery pack, electrode sharpener, cleaning brush, AC power cord, spare electrode, user manual and carry case.
* Fitel Precision Cleaver sold separately (see below).
Rugged and compact handheld design endure harsh environmental conditions
Fast splice (7 sec) at super low loss and Fast Heating (25 sec)
200 cycles (Splicing & Heating) with new battery configuration
Available for All METRO/LAN/FTTx fibers including ultra bend-insensitive fibers (e.g. EZ-Bend™)
Splicer is compatible with the Seikoh Giken and Diamond Spliceon- connector (SOC)
Easy maintenance - Easy electrode replacement /mirror free alignment system
Easy Software upgrade via the internet
Easily exchanged fiber holder systems (tight holder/fiber holder/SOC holder)
PC interface software to allow user manage splicing recipes and splicing results
Auto-start shrink sleeve oven feature
Improved GUI to further enhance ease-of-use
Large memory for storing data (1,500 splice data) and image (100 images)
Drop Resistance - 76 cm Drops from 5 different angles
Water Resistance - IPX2 rating drip proof
Dust Resistance - IP5X rating dust proof
Item #: 32605
Weight: 12 lbs.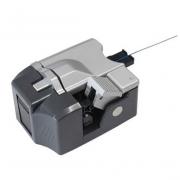 Item #: 32611
Weight: 2 lbs.