Fitel S123C-A Fusion Splicer
With its low profile and new super rugged body, the FITEL® S123 Series Fusion Splicer offers speedy operation for FTTX, LAN, backbone or long-haul installations.
The best fiber optic cable testing equipment is found at tecratools.com. This Fixed V-Groove, or Clad alignment Fusion Splicer is ideal for single fiber splicing in FTTX and last mile applications. The lightweight, durable metal body frame and rubber protection corners provide robust protection, enabling use in challenging locations without compromising splicer performance. The S123 is water resistant to IPX2 and dust resistant to IP5X.
Package includes: S123C Main body, Soft Carrying Case, Battery Pack, Battery Charger, Spare Electrodes, AC Adapter, Electrode Sharpener, Cleaning Brush, User Manual.
* Fitel Precision Cleaver sold separately (see below).
Rugged and compact hand held design for demanding environmental conditions
Fast splice (13 sec) at low loss and fast heating (25 sec) for single fiber
Simple operation with fixed V-groove
Splicer is compatible with Seikoh Giken and Diamond SOCs
70 cycles (splicing & heating) with a single battery
Available for all METRO/LAN/FTTX fibers including ultra bendinsensitive fibers (e.g. EZ-Bend® Fiber)
Easy maintenance – Toolless electrode replacement/mirror free alignment system
Easy software upgrade via the Internet
Easily exchanged fiber holder systems (tight holder/fiber holder/SOC holder)
PC interface software to allow user management of splicing programs and results
Auto-start shrink sleeve oven feature
Improved GUI to further enhance ease-of-use
Large memory for storing data (2,000 splice data) and image (100 images)
RoHS compliant
S123C-A Splicer Specifications

SMF, MMF, DSF, NZDSF, BIF/UBIF

125um

250um to 900um single fiber

2-axis cladding alignment

SMF 0.05dB
MMF 0.03dB
DSF 0.08dB
NZDSF 0.08dB

13 seconds

Single Fiber:
25 seconds (40mm)
25 seconds (60mm),
Ribon Fiber:
35 seconds (40mm)

Programs
Memory:

Splice Programs: Max. 150 Heat Programs: Max. 18

Max. 1,500

Simultaneous two-axis display.

5"W x 7.8"L x 3.2"H

3 lb. body, 0.4lb. battery

70 splice/heat cycles



Item #: 32600
Weight: 12 lbs.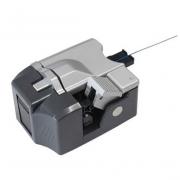 Item #: 32611
Weight: 2 lbs.