12" F-Connector Removal & Insertion Tool
Long 12" reach, dual function tool eases installation and reaches where other tools can't.
Both the 12" (#38305) and 8" (#38306) versions of the F-Connector Removal/Insertion Tools combine dual functions to make F-Connector assembly and mating safer and faster. A threaded end holds the F-Connector during cable assembly, easing the connector seating against the dielectric and avoiding potential injury from the cable center conductor. The hex socket end slides over the cable and the rear of the connector for easy mating and un-mating. Tools have a 7/16" hex socket for mating/unmating and a 3/8-32 threaded end for cable insertion.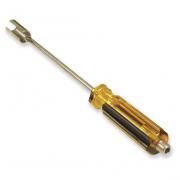 Item #: 38305
Weight: 0.5 lbs.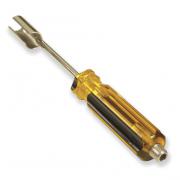 Item #: 38306
Weight: 0.5 lbs.