Platinum VDV MapMaster 3.0 Cable Tester
The VDV MapMaster 3.0 Tester combines cable mapping, length measurement, continuity testing and tone generator functions into a single unit. Capable of identifying and mapping 19 locations at one time (with optional remotes).
The VDV MapMaster™ 3.0 combines continuity testing, mapping, generating tones and length measurement functions into a single easy-to-use unit for installation, troubleshooting, and maintenance for telco, network, or coax cable. The back-lit display, glow-in-the dark keypad and a built-in flashlight helps you to work in the dark. Whether your jobs are commercial or residential, the versatility and added features of the VDV MapMaster 3.0 makes it a best value cable verifier for the professional installer!
CATV, telephone systems, audio cable, security/alarm wiring, and network cabling can all be mapped, tested, measured and located using the VDV MapMaster Cable Mapper and optional room identifier sets.
* Tests to T568A/B wiremap configuration: shorts, opens, miswires, reverses and split pairs
* Single-ended Testing for Shorts & Split Pairs
* Measures Length in Feet/Meters
* Identifies cable location on active ports using flashing Port Link Light
* Easy to read, backlit LCD screen with large icons, glow-in-thedark keypad and built-in LED flashlight for use in dark areas
* Identify up to 20 network or coax cable runs at a time
* Audible Tone Generator, 4 selectable cadences)
* Tests and indicates pins with shorts, opens, reversals, miswires and split pairs
* Cable Types: Shielded or Unshielded, Cat-7, Cat-6A, Cat-5e, Cat-5, Cat-4, Cat-3, Coax
* Minimum cable length for split pairs detection: 1.5ft
* Low power consumption for long battery life
* Auto Power-Off
* Made in the USA
THIS TESTER INCLUDES
VDV MapMaster 3.0 Master Unit and Remote only Instruction Booklet
Item #: 37470
Weight: 3 lbs.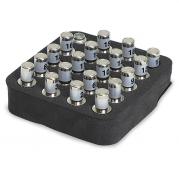 Description: Set of 19 Coax Remote Identifiers allow you to locate up to 19 different coax jacks without having to walk back and forth to each location.
Item #: 37472
Weight: 0.5 lbs.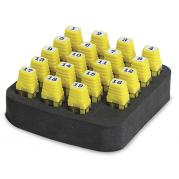 Description:
To effectively and efficiently locate and test up to 19 RJ45 outlets, plug one of these units in every outlet you wish to test, go back to the patch panel and plug in your #37470 VDV MapMaster Cable Mapper. If it terminates into one of these remotes on the other end, you'll know immediately which remote ID# that cable is connected to.
Item #: 37476
Weight: 0.2 lbs.