GatorBack Pro Installer Tool Belt
The best Tool Belt we've ever found! The unique "Molded Air-Channel Comfort System" design provides comfort, back support and ventilation!
The double layered 1250 denier DuraTek fabric delivers unsurpassed ruggedness. This means you won't be buying a new belt for years!
All stress points are reinforced with bar-tack stitching and heavy duty metal rivets making this product tear and rip resistant. Pocket openings are made tough and held open with high density nylon webbing. Durable inner lining and plastic inserts stitched throughout the pouch body and pocket bottoms adds stiffness and strength. Heavy nylon stitching around the outside of the leather belt prevents stretching and the double metal buckle makes the belt professional tough.
A seamless boxed bottom pouch and pocket design, provided with stitched in strong plastic inserts, lets you store more in each pouch. High-density nylon "Web Core" inside the padded belt provides strength to all belt loops, suspender connections, seams, and stress points.
Hate broken suspender clamps? Our metal ring hook system, reinforced by high density nylon webbing is the strongest connection available.
High density nylon handles on each pouch give you an easy way to transport your belt.
Electrician's Mini Tool Pouch includes one main compartment, two interior pockets, three exterior slots, two exterior pockets and an electrician's tape chain.
Electrician's / Mechanical Tool Pouch includes 21 Pockets with an upper pocket, 12 interior pockets, four exterior slots, six exterior pockets, one electrician's tape chain, one hammer loop and one key/tool clip.
In Stock Belt Size: Large (35"-40" Waist)
Other Sizes Available (Please Call!): Small (26"-31"), Medium (31"-35" Waist) & Extra Large (40"-45" Waist).
Great for Telecom, CATV & Audio Video Installers
Guaranteed Tough, Always Comfortable
Comfort and Ventilation with the "Molded Air-Channel Comfort System"
Contoured, Extra Wide Belt for Added Support
Carry all your tools comfortably around your waist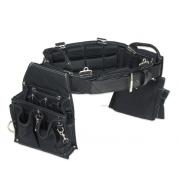 Description: GatorBack Pro Installer Tool Belt
In Stock Belt Size: Large, Fits 35"- 40" Waist
Color: Black
Heavy-Duty Nylon Fabric Construction for durability.
Item #: 64280
Weight: 6 lbs.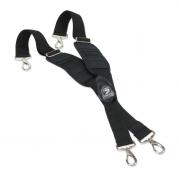 Description: GatorBack Suspenders
Color: Black
Molded Air-Channel Suspenders with Metal Spring Hooks.
Adjustable, thick molded Air-Channel Foam shoulder pads with 2" wide adjustable nylon straps, leather crossover divider and heavy duty metal spring hooks that attach to the rings on the GatorBack Tool belt.
Fits our GatorBack Pro Installer Tool Belt.
Item #: 64290
Weight: 2 lbs.