Super-Sized Tool Case with TSA-Approved Lock, Wheels and Telescoping Handle
This Super-Sized Wheeled Tool Case has a 9" interior depth and all the features needed for frequent air travel, including a built-in, TSA-approved lock!
NEW FEATURE - Includes TSA-Approved Combination Lock!
High-tech rugged ribbed case in a large size. Black valance with all black hardware, combination lock, 2 recessed military-style latches, cardholder, exterior mesh accessory pouch, full-length piano hinge, stitched vinyl steel-core handle, cast key locks, ball-bearing wheels and telescoping handle. 1 top handle and 1 side handle added for easier handling. New compartments have been added to the bottom of the case to increase storage capabilities.
One Year Warranty


*PALLETS ARE SOLD SEPARATELY from Tool Cases and can be purchased by CLICKING HERE
Super-tough high density polyethylene shell
Wheels and telescoping handle
Recessed military-style latches
TSA-Approved Resettable Combination Lock
Strong Full-length Piano Hinge
Over-size Padded Handles
Interior designed to hold Super Size Tool Pallets
One Year Warranty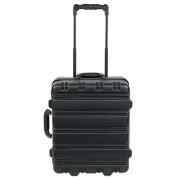 Description:
Wheeled Super-Sized Tool Case
Inside Dimensions: 17.5" x 14.6" x 9"
Pallets: Accepts Super Size Tool Pallets (Sold Separately)
Rugged high density polyethylene tool case.
Also features military-style latches, TSA-Approved resettable combination lock, wheels, telescoping handle, black finish steel hardware and One Year Warranty.
*Pallets pictured are sold separately by clicking Super Size Tool Pallets
Dimensions: 22x17x13
Item #: SWLB
Weight: 18 lbs.