ZTS Mini Multi-Battery Tester
Perfect for field service technicians, installers or any heavy battery users (aren't we all anymore?). Quickly and easily checks the power state for more than 15 battery types.
The ZTS Mini Multi-Battery Tester™ (MINI-MBT) provides a comprehensive means of testing the state of charge or state of power for more than 15 battery types. This microprocessor-controlled instrument is designed for commercial or home use and tests popular primary (non-rechargeable) and rechargeable batteries using a patented, high accuracy pulse load test. After a fully automatic test cycle, percentage of remaining battery capacity is indicated on the LED bar display.
Battery types are clearly labeled next to appropriate contacts. The negative test lead/probe conveniently stores in seam at side. It's easy to use, and test results are easy to understand. Tests NiMH, alkaline, and lithium. Requires
Uses 4AAA batteries (not included).
Easy to use - no switches or settings
Quickly and easily identifies weak or failing batteries
Fully automatic - high accuracy Pulse Load test
Ideal for battery management and cell matching
Made in U.S.A.
Pulse Load Technology
The ZTS Mini Multi-Battery Tester provides a fully automatic pulse load test to determine state of charge (SOC) or state of power. The pulse load test simulates real power demand and measures battery performance, not just voltage.
Testing capability:
1.2v NiMH / NiCd rechargeable [AA, AAA, C, D]
1.5v alkaline [AA, AAA, C, D, N]
3v photo lithium [CR123, CR2, CRV3]
9v alkaline & carbon zinc
Pulse load: Magnitude varies according to battery type
Display: Five LEDs - Green, yellow, and red
Test Duration: 2-3 seconds, varies according to battery type
Contact terminals: Nickel-plated brass
Dimensions: 4" x 2.5" x .75"
Weight: 3 oz. / 85g (without batteries)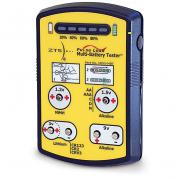 Item #: 25231
Weight: 1 lbs.

Description: Single Rayovac AAA Alkaline Battery
Item #: 25211
Weight: 0.1 lbs.