RhinoPRO 3000 Label Maker
Finally, a professional label maker designed specifically for Audio/Video Installers, Home Automation, Security and VDV Applications.
The RhinoPRO 3000 is the first label printer developed exclusively for home automation, Voice/Data/Video (VDV) and other residential and light commercial applications. Affordable and easy-to-use, the RhinoPRO 3000 labeler packs features specifically tailored for the residential installer.
Requires 6 "AA" Batteries (Not Included), Need batteries? Click here to order.

RhinoPRO Labels
Portable labelers are only as good as the labels on which they print. That's why DYMO designed a series of labels for a multitude of applications on a wide variety of surfaces. Designed to work with the DYMO RhinoPRO series of portable label printers, these labels will stick and stay stuck.
Permanent adhesive results in labels that stick and last in heavy duty environments.
Thermal transfer print technology is durable, smear-proof, and resists chemicals, solvents, grease, heat, moisture and other harsh elements.
Flexible nylon tape is specifically designed for wire and cable marking and has time-saving easy-to-peel split backing.
Permanent polyester labels work great on a variety of flat, textured or highly textured surfaces for general labeling.
Exclusive "Hot Keys" for easy one touch labeling
Flagging for wires and cables
Vertical and Horizontal Wraps for wires and cables
Fixed length for various locations including, security panels, face plates and more
Panel Mode for telephone and data distribution panels
Powerful text "hot keys" feature over 150 preset Audio/Video Terms
to significantly reduce labeling time
Extra large display and oversized keys provide a simple user interface
Prints on 3/8" and 1/2" RhinoPRO labels
Also prints on 1/4", 3/8" and 1/2" RhinoPRO Heat Shrink Tubing
RhinoPRO 3000 label printer
Impact resistant bumper
One 1/2" white flexible nylon label cassette
Description:
Dead batteries? No problem, with the Rhino Pro AC adapter you'll be running again in no time!
Item #: 23374
Weight: 2 lbs.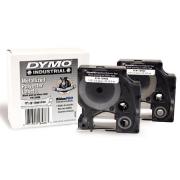 Description: Print directly onto 1/2" Heat Shrink Tubing with this unique RhinoPRO label cartridge.
Material: Heat Shrink Tubing for Wire & Cable Marking
Size: 1/2" diameter x 5 Ft long, shrinks to fit 1/4" Diameter cable
Color: Black print on Yellow Heat Shrink Tubing
Item #: 23390
Weight: 0.2 lbs.